Our Affiliates
Email Newsletters
Electronic newsletters (or email newsletters) are a wonderful way for you to keep your business in front of your clients and potential clients. It is a powerful and inexpensive way to build your reputation, enhance your company image, and drive new business your way. We have extensively tested all of the major providers for email newsletters and iContact is the clear winner. Our clients love how easy it is to edit their HTML Email Newsletters using the client control panel and best of all, they offer a FREE hosting plan for small subscriber lists.
Domains
If you need to secure a domain for your new website, we recommend GoDaddy. They are fast, affordable, reliable, and don't charge fees for tasks like domain forwarding like some of their competitors. Register a Domain, Low Yearly Fee
SSL
You will need SSL (secure-socket-layer) encryption on your website if you will need to secure sensitive information being submitted through your website. In most cases, this is because you have an ecommerce website and you need to protect your customers' payment & conact information. You might also have a form on your website where you are collecting social security numbers or drivers license numbers and in these cases, you would always want to protect the transmission of this information through your website. We recommend GoDaddy SSL certificates for their reliability and competitive pricing. SSL Certificates - Let customers know their private details are safe. Same security as our competitors for up to 90% less, Low Yearly Fee
Web Site "Live Chat"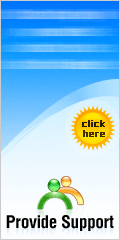 Would you like to offer live assistance to your customers with just the click of a mouse through your website? Installing a live chat feature on your website may be just the solution to allow you to build customer loyalty and business credibility. We recommend ProvideSupport for live chat solutions for your website. They offer the most user-friendly chat environment, a fully customizable interface, and the most affordable solutions for this type of service. To signup, please start by clicking on the banner below.
eCommerce Websites
Ecommerce Templates provides a powerful shopping cart software solution integrating into the main HTML editors; Dreamweaver, Frontpage, Expression Web, GoLive and CSS layouts.